The land
Located in lush green mountainous department of Boyacá, FURA's Coscuez emerald mine covers an area of 46 hectares and is about 228 kilometers in north from capital city of Bogotá. The Coscuez Mine is historically one of the world's most significant emerald mines, having been in operation for over 400 years and has produced some of Colombia's finest emeralds.
The untold story
The earliest records of emeralds in Colombia dates back to a region named Somondoco (now Chivor) in 1537. The Muzo emerald district was discovered in 1764, but it was only when the profitable mining concept of 'open pit' got introduced in 1833 that mining started flourishing.

Colombia's Muzo district actually encompasses several mines, of which two are currently major producers: Muzo and Coscuez. The two mines are only 10 km apart. Although smaller than Muzo, the Coscuez mine has for more than 400 years produced some of the best emeralds from the Muzo region, at times in quantities that have even surpassed the Muzo mine. In the mid 1980's the production from Chivor region started depleting while that from the Coscuez mine accelerated rapidly.

Today, the Coscuez mine has grown to become one of the largest producers of emeralds in Colombia and is rapidly gaining significance as a major source of fine emeralds. It was at Coscuez, in fact, that the Guinness Emerald Crystal of 1,759 carats, one of the largest gem-quality crystals in the world, was discovered. Today, FURA's Coscuez emerald mine is the only provider of rough Colombian emeralds in an organised platform.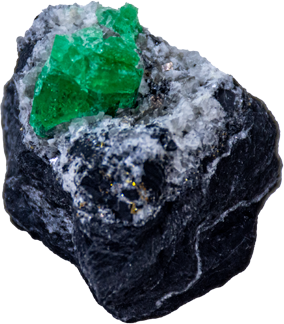 Our Emerald mine
FURA started its journey in the colour gemstone space by acquiring the iconic emerald mine in Colombia, Coscuez SA. In 2017, FURA started the socialisation project to familiarise the community with our plan to develop the Coscuez mine. After the acquisition, we initiated the transition of the Coscuez from a traditional small-scale mine to a large-scale operation. In the first phase in early 2018, we hired around 200 employees on full-time employment to support the initial geological studies. We carried out a core-drilling program to delineate the ore body and initiated the bulk sampling program. The LAPAZ decline was extended for 1km from 1.8m x 1.6m to 2.2m to 2.0m. The entire mechanisation of the Coscuez mine was completed by March 2020, which includes the addition of the jumbo drills, Jacklegs, ventilation fans and dump trucks. Fura transitioned from the manual washing of the ore to the 10-ton-per-hour pilot wash plant

After completing the bulk sampling project, we applied with the Colombian authorities to convert the Coscuez mine from a small to a large-scale mine. In the year 2020, the Government of Colombia approved the extension of the Coscuez license by 30 years and then by December 2021, Coscuez received the Large Scale Environmental Permit. We further expanded the wash plant to 60 tons per hour by adding for the first time the optical sorters to pick emeralds with limited human intervention. In July 2022, we started the construction of the 4m x 4m decline, with a total development of 6 km over the next 20 months. With an entire workforce of over 525 employees and construction of the new decline, our Coscuez mine is poised to be the world's largest underground emerald mine by 2023

We gave utmost importance to strengthening of our Corporate Social initiatives over four years by focussing on the critical pillars of Education, Medical, Sustainable income opportunities and Skill development. During the peak of COVID-19, Fura set up Coscuez COVID Fund, which provided support to over 4,000 community members. The flagship Coscuez Training Academy supports over 2,000 community members and has launched projects like poultry and pork farming, small business for multiple families, scholarships program and skill development activities to name few of the initiatives